The fate of Aileen Wuornos is truly tragic.
She was sentenced to capital punishment for her crimes. But what drove the young woman to commit all these atrocities? While selling her body on the streets, Aileen at one point began to kill her customers.
Her terrible and at the same time dramatic life story interested American filmmakers, who made two pictures dedicated to the fate of this woman. We present you all the movies about Aileen Wuornos – the full list.
Monster (2003)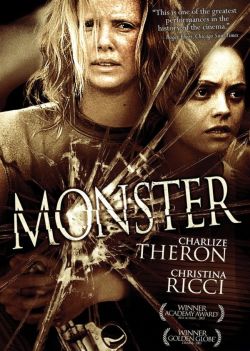 As Aileen Wuornos: Charlize Theron
The film shows viewers a love story set against the backdrop of the terrible crimes of 2 outcasts – the prostitute tramp Wuornos and Selby Wall, a lesbian who has been abandoned by her parents.
Desperate and close to suicide, Aileen walks into a bar where she meets Selby and develops feelings.
In order to live with Selby, she continues with her activities. A deadly rage builds up inside her, which eventually culminates in a string of murders that later lead the media to call her the Monster, the first female serial killer.
Aileen Wuornos: American Boogeywoman (2021)
As Aileen Wuornos: Peyton List
Sentenced to capital punishment for killing seven men, Aileen Wuornos agrees to give a frank interview to a documentary filmmaker.
She talks about the secrets of her past, recalling her life since the mid-1970s. Aileen was young then, but was already involved in prostitution and had occasional outbursts of aggression.
By chance she befriended a wealthy girl and easily seduced her 69-year-old father, the head of a Florida yacht club. Their marriage was short – only nine weeks. It could have been a great chance for Aileen to start a new life, but instead it turned out to be a push into the abyss.